Thanks to the efforts of the Tunbridge Wells and District Soroptimist club, Royal Tunbridge Wells has become a 'Toilet Twinned' town.
The group pulled together an innovative funding drive to help families living in poverty to have lifesaving loos.
They collected and recycled aluminium cans to raise money to twin toilets, installing designated bins in Dunorlan, Calverley and Grosvenor & Hilbert Parks, supported by Tunbridge Wells Borough Council.
A dedicated team of ladies emptied the bins in all weathers, collated the collections and took them to the local recycling unit. The Soroptimists recycled over 400kg of aluminium cans. The club also created a 'toilet sculpture' out of aluminium cans which has been displayed at local events to promote the initiative.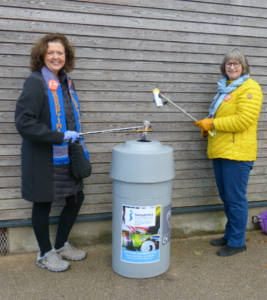 Toilet Twinning is a globally recognised project, aiming to eradicate poor sanitation in vulnerable communities. For a town to receive a 'Toiled Twinned' status, 20 or more toilets must be twinned in a year. The work of the local soroptimist group highlights the importance of clean sanitation, particularly for women and girls, while encouraging residents to recycle their aluminium cans.
Toilet Twinning CEO Lorraine Kingsley said: 'We joke about loos, but toilets are literally lifesavers in the places where we work. The people of Tunbridge Wells can be proud that their generosity and hard work have changed many lives.'
Find out more about the Toilet Twinning Initiative on their website.
To contact the Tunbridge Wells and District Soroptimist club, email situnbridgewells@yahoo.co.uk and visit their website.